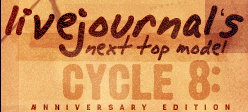 If you'd like to apply, please e-mail the provided application to tm.judges@gmail.com. Please do not change the application AT ALL. Copy and paste the application into your e-mail. Good luck!
Name (please include lj username as well):
Occupation:
Birthdate:
Age:
Height:
Weight:
Hometown:
Favorite TV Show:
Favorite Movie:
Favorite Magazine:
Favorite Food:
Life Motto:
What do you think of the winners on the show?
What do you think of the community's previous winners?
Why do you think you're the next top model?
Each contestant will be required to post at least 6 CLEAR pictures of themselves.
-Two must be FULL body shots.
-One must be a salute with both your hands, face, lj name, and the name of THIS community visible.
-Two must be clear color face shots, and one must be a black and white clear face shot.
-Please only apply if you have daily access to a digital camera,
can be an active participant in the themes, and can handle constructive criticism.